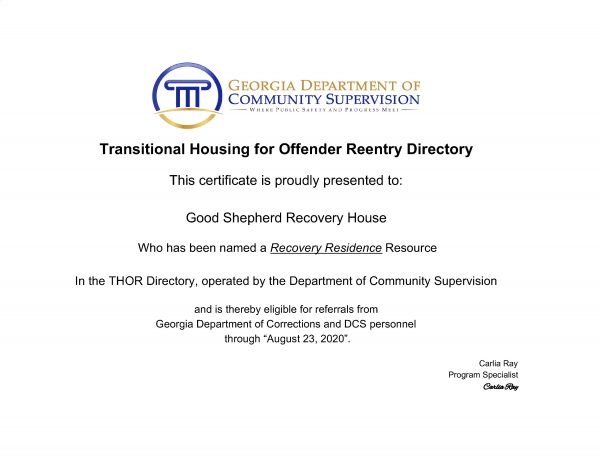 Good Shepherd Recovery House is THOR (Transitional Housing for Offender Reentry) approved. 
The intake process for Good Shepherd Recovery House (for men) begins with a phone call or email introducing yourself to us.  We will first conduct a phone interview to determine if you are a good fit for our program. We will discuss with you the rules and regulations to see if we are a good fit for you.  We do not accept anyone with sexual or violent battery offenses (a single misdemeanor battery charge is permissible), and we are a non-smoking program.
You will be required to:
Once Application with Background Check Authorization is completed and returned, $35 is submitted for Background Check, and Background Check comes back without felony battery or sexual charges, the client is preliminarily accepted. Next comes the:
$300 NON-REFUNDABLE Fee 

to hold a bed

and

to send an Acceptance Letter

. Fees are for processing paperwork, phone calls with client, family members, lawyers, probation officers and courts to facilitate client's intake. Includes 1 court appearance on behalf of the client if required.
If client's request to enter Good Shepherd Recovery House is accepted by the court, an additional non-refundable fee of $200 is due along with the first month's payment for assessments for their treatment plan.
ALL PAYMENTS FOR TREATMENT ARE NON-REFUNDABLE, even if client leaves program early.
First full month payment for treatment:

$1,000 (for basic recovery program – 1 document sent per month to supervising officer)
or $1,250 (for documented recovery program – sending more than 1 document per month or reporting in person to supervising officer)
plus any proration for a partial month
plus above-referenced assessments fee of $200.

From thereon, services must be paid for in advance

$1,000 or $1,250 a month due by noon on the last business day of the preceding month.

Additional fees may include doctor visits, medicine, individual Resident transportation, or any other fee which is incurred on behalf of a specific Resident.
Transportation fees for driving individual residents to individual  appointments (group transportation is included in the program fees) vary depending upon the destination's distance from the House. This includes doctor appointments, job interviews, probation meetings, getting licenses re-instated, going to court, DUI classes, etc. The Fee list is included in the Policies and Procedures which each Resident receives prior to intake.
The program lasts for 12+ months.

Phase 1 lasts for 3 months, and the men cannot work during that period of time, but are immersed in intensive treatment. Therefore, for the first four (4) months ($4000), a family member or friend may need to cover their monthly and incidental fees if the men are unable to pay for it for themselves.
Phase 2 lasts for the remainder of the program, and we will assist the men with finding work and transportation through our network of contacts.  However, we do not provide them with a job and transportation. The men will have to take the initiative to look for and apply for jobs, AND find transportation to that job. The men must return back to the House every evening.

Payment may be made by:

credit card via Paypal,
automatic weekly or monthly Paypal subscription,
wire transfer / electronic deposit,
cash,
money order, or
personal check (if a check is returned for insufficient funds, personal checks will no longer be allowed, and there will be a $50 service fee for returned checks and delayed payment).

We offer different types of in-house working Scholarships depending on the current needs of the house. Click here to learn more.
For more information, email us through our web form or call us at 678-459-2346.
Click here for the Application: Good Shepherd Recovery House Resident Application